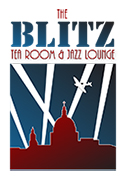 Welcome to The Blitz Tea Rooms and Jazz Lounge in Kettering. This is the most friendly and authentic 1940's Tea Rooms anywhere, serving a range of afternoon teas, lunches and drinks in superbly designed period surroundings.
Stepping into the Blitz Tea Rooms is like stepping into the 1940's, the friendly staff are in period dress serving great teas and coffee, lovely food and cakes while you look out through the ceiling of a bombed house!
You can enjoy a Mussolini Cappuccino, a Lana Turner Latte or even a Roosevelt Americano. Try the Churchill mini pork pie with chutney, or the Vera Lynn with mini desserts, sandwiches and scones.
The great setting, period music playing ( who doesn't like Vera Lynn ) and authentic 1940's presentation take you back to an era and ambiance of perhaps a more romantic time.
This is a place to join in the fun by dressing in the clothes of the period or just relax while out in Kettering. The tea rooms are open from 9.00am to 4.30pm Monday to Saturday and on selected Friday and Saturday evenings  there is live music from the 40's and a number of themed evenings.
Just  take a look in your ration book menu at the wonderful food and drinks that are available.
Don't forget we are also licensed to sell alcohol as well.
We are open from 8.30am to 4.30pm Monday to Saturday.